Who impressed me the most:
******
1. Jamon Meredith, OT/South Carolina: He was on a different level than anyone else here, by far. Looks like a TE running downfield and reaching the 2nd level, excellent feet in pass pro and has the frame to add weight. Played inside at OG a lot this year, so that brings some versatility, I would definitely take him 2nd round, maybe even late first.
*****
2. Keith Fitzhugh, SS/Mississippi St: He's very active and has a quick trigger to come up and fit vs. the run. About as sure a tackler as you'll find, played extremely hard. Made a couple mistakes in coverage and doesn't appear to be as instinctive against the pass, but has a lot of tools to work with and showed tremendous potential. Great on Special Teams.
3. Sebastian Vollmer, OT/Houston: The only guy that could contain Sidbury, an OT with his length and feet is extremely hard to get by. He's got some technique issues he could work out and doesn't get a great push in the run game, but is athletic and could be a steal early on the 2nd day as a developmental type.
4. Jarrett Dillard, WR/Rice: One word to describe him would be savvy. Sure he has great hands and ups and good quickness/speed, but the precision in his routes is uncanny. Almost everything about them seemed perfect. The only thing keeping him from being in that top tier of WR's is his size.
5. Mike Thomas, WR/Arizona: Dillard was 1A and Thomas was 1B of the WR's, in my opinion. He looks very short out there (He's 5'8"), but his toughness and strength over the middle makes up for a lot of it. Good hands and can jump, very quick and runs good routes. Could be a Welker type slot WR at the next level.
6. Tyrell Sutton, RB/Northwestern: He looks like Chester Taylor to me. Excellent receiver out of the backfield (149 catches in his college career), could be a great 3rd down back for somebody. Looked good on kick returns, runs low to the ground and with surprising power, makes efficient cutbacks. Might not be a full time back in the NFL but is a hell of a player.
****
7. Lawrence Sidbury, DE/Richmond: He could be a productive situational pass rusher. Terrorized the West OL, extremely quick off the ball and has very long arms. A huge question for him will be the 3-4 LB one, and he should get a chance to show some cover skills at the combine. His one negative is a huge one: Really struggles when ran at, can get driven back pretty easily once he's locked onto (which is rare), ended up going too far upfield and overrunning the play too often.
8. Louis Vasquez, OG/Texas Tech: I don't see why this guy isn't higher on everyone's boards. Sure, he's not a quick, 1 on 1 type of blocker but he gets a great drive in the running game, is huge, and holds his ground with the best of 'em. Some say he looks sluggish, but I didn't see that. He would really struggle if put on an island at LT and he'll probably run a 5.4ish forty, but those things aren't too important for OG's. The one thing that concerns me with him is his second level blocking.
9. Gartrell Johnson, RB/Colorado St: Extremely powerful, I'd hate to try and bring him down. Huge legs, keeps them driving on contact and always falls forward. I think some people will write him off after he runs a disappointing forty at the combine (probably 4.6-4.7), but he could be an excellent short yardage back, and could maybe even play some FB.
10. Brandon Mouton, CB/Hawaii: Blanketed his man all day, got in Aaron Kelly's head big time. Small but plays big, very quick. His top end speed might not be great but he does have a little burst.
11. Deon Butler, WR/Penn St: He adjusts to the ball in the air as smoothly as any receiver I've ever seen. Runs sharp routes and has good hands but is smallish and his top-end speed is questionable.
12. Kaluka Maiava, LB/USC: He was often overlooked because of the talent around him, but was able to showcase his skills here. Instinctive and smart player, sure tackler and looks fluid dropping into coverage. He's smallish and isn't great vs. the run, reminds me of Brendon Ayanbadejo.
13. Bear Pascoe, TE/Fresno St: Made an acrobatic catch above Courtney Greene over the middle, showing some impressive athleticism. Several of his blocks sealed off huge lanes for Aaron Brown and others to run through. He'll never be mistaken for a WR but he is a smart, blue collar player.
14. Phillip Hunt, DE/Houston: Plays with outstanding power and leverage for a guy his size. I've heard his name be brought up as a possible OLB but this game convinced me he should stay at DE. He's very stout, reminds me very much of Keyunta Dawson. His size is a big drawback to being a 1st day pick, and it's a shame because he's talented.
15. Marlon Lucky, RB/Nebraska: After a disappointing senior year he ran like a different person in this game and reminded us why he was one of the most coveted H.S. recruits in the nation. If I was a GM I'd have to make sure this is the real him before I took him. I'd really like to know why he wasn't more productive this season.
16. Augustus Parrish, OT/Kent St: He's raw in technique & footwork but flashes jaw-dropping potential at times. He's athletic but doesn't move his feet real quick. Has a strong upper body and a great frame but doesn't always use leverage and hand placement to his advantage. He could sneak into the 3rd round a la Oniel Cousins with an impressive combine.
17. Michael Tauiliili, ILB/Duke: He was just all over the field. I'm not sure if his talent will transfer to the NFL but he sure is fun to watch. Instinctive, tough player, if a team can convince themselves he's the next Zach Thomas and not just one of the many great college players that lack the size and speed to make it in the NFL, he'll get drafted.
18. Clinton McDonald, DT/Memphis: He can play 3-4 end, but I view him as a 4-3 tackle. Extremely active and looked like a poor man's Rod Coleman/Jon Babineaux. He was the only one to push Vasquez back all day. Lacks the prototypical size of a DT but he was very productive and gets good penetration.
***
19. Ryan Palmer, CB/Texas: Extremely aggressive (sometimes over-aggressive), suffocated receivers
20. Curtis Taylor, S/LSU: Looks like a big time player with his size/speed/athleticism, played solid but not great
21. Hunter Cantwell, QB/Louisville: Big guy with a big arm, he didn't get to throw as much as I would've liked
22. Tom Brandstater, QB/Fresno St: Probably had the most impressive game of any of the QB's but I'm not sold on him
23. Myron Pryor, DT/Kentucky: I doubt he gets drafted b/c of his size but he could make a team with hustle and he makes plays
24. Jon Cooper, C/Oklahoma: He could fit for a zone blocking team looking for a mobile C, moves very well at the 2nd level but can be thrown around at times
25. Roy Miller, DT/Texas: Very active, I could see him as part of a 3 DT rotation someday
26. Jason Williams, OLB/Illinois St: He'll be a project, lacks some in technique but looks the part, showed impressive speed in pursuit
27. Matt Shaughnessy, DE/Wisconsin: He's long and gets his hands up at exactly the right time, impressive pass rusher needs to add weight, looks a little stiff in pursuit
28. Javarris Williams, RB/Tennessee St: Runs very low to the ground and makes quick cuts
**
29. Aaron Brown, RB/TCU: Great in the open field with his cutbacks/speed, but can be arm tackled way too easily
30. Johnny Williams, LB/Kentucky: Good size for the position, made some solid hits but struggled disengaging blockers
31. Lendy Holmes, S/Oklahoma: Didn't really make too many plays but showed very good speed chasing down Marlon Lucky. He could be one of those surprise-sub 4.4 guys at the combine.
32. Jarron Gilbert, DL/San Jose St: I expected more from him but he did have a solid game
33. Matt Slauson, OG/Nebraska: Power run blocker, has a mean streak but doesn't look good at the 2nd level
34. Jasper Brinkley, ILB/South Carolina: One of the highest prospects on my board coming into the game, this game was forgettable for him, only had one play that made an impact but looked smoother in coverage than I thought he would.
35. Nick Reed, DE/Oregon: He looks like he could make the move to 3-4 LB, high motor pass rush specialist
36. Jason Phillips, LB/TCU: Very aggressive, good on special teams but his reported timed speed (4.5's) doesn't translate to the field
37. Brian Hoyer, QB/Michigan St: Had a very disappointing senior season, was on target today
*
38. Terrance Taylor, DT/Michigan: Doesn't make many plays because he's too busy taking up blockers
39. Sammie Stroughter, WR/Oregon St: Not very fast but he can get open and catch the ball
40. Stephen McGee, QB/Texas A&M: He got benched this year and somehow didn't look rusty
41. Stryker Sulak, DE/Missouri: Long, lanky, doesn't look like he could play LB but does have the frame to bulk up
42. Bradley Fletcher, CB/Iowa: One big question with him in my mind is recovery speed and short area burst, had a pretty good game but didn't do anything to answer me
43. Don Carey, CB/Norfolk St: Quick twitch athlete, looks good and fluid running with WR's but was beaten deep bad by Marko Mitchell then pulled up with a hamstring injury
44. Collin Mooney, FB/Army: Old school, hard nosed FB
45. Mark Hafner, H-B/Houston: Was left uncovered over the middle all day and made the most of it
46. Brian Mandeville, TE/Northeastern: Tall with good straight line speed, needs to add strength and improve blocking
47. Ryan Durand, Syracuse: Tough guy, locks on consistently but has average physical tools
48. Mortty Ivy, LB/West Virginia: Looked more fluid as an athlete than I thought he would, sure tackler
Didn't help or hurt themselves
Ramon Foster, OT/Tennessee: Lumbers at the 2nd level but got a solid push in the run game, exactly what we all expected
Greg Orton, WR/Purdue: Solid downfield blocking but only had one reception and it was a body-catch
Etienne Legare, DE/Laval (Ca): Showed a nice bull-rush but nothing else, should play in the CFL
Morgan Trent, CB/Michigan: His interception was cancelled out by the whole Dillard beating him by 10yds thing
C.J. Spillman, S/Marhsall: Physical player, takes good angles but doesn't change directions very well
Manuel Johnson, WR/Oklahoma: Didn't do anything that stood out but looked pretty quick
Mike Reilly, QB/Central Washington: Didn't play near as bad as his stat line, actually impressed me a little bit
Edwin Williams, C/Maryland: Big center, good once he locks on but doesn't re-direct well
Ian Johnson, RB/Boise St: The most recognizable name in this year's game. I think he'll end up playing in the CFL, if he wants to, doesn't have any tools that really separate him from the rest of the pack
Victor Butler, LB/Oregon St: Made some plays on ST, I didn't see him on defense
Fenuki Tupou, OT/Oregon: He can slide well and is a mauler, it's when he has to change directions that he really struggles
Jared Bronson, TE/Central Washington: Doesn't look very fast but caught the ball well
Ra'Shon Harris, DT/Oregon: He looked way bigger than he's listed, could probably play NT
Michael Bennett, DE/Texas A&M: Fast in the open field, he looked like an LB, got pushed back too much and never really pressured the QB
Dannell Ellerbe, LB/Georgia: He was solid in coverage and vs. the run, but didn't stand out
I didn't get to single out these guys as much as I would've liked (some of them did not play b/c of injury):
Cecil Newton, C/Tennessee St
Seth Olsen, OG/Iowa
Nick Walker, TE/Alabama
Jaimie Thomas, OG/Maryland
David Johnson, FB/TE/Arkansas St
Darcel McBath, S/Texas Tech
Kevin Ellison, S/USC
Anthony Felder, LB/California
Al Afalava, S/Oregon St
Glover Quin, CB/New Mexico
Cary Harris, CB/USC
Worrell Williams, LB/California
Juan Garcia, C/Washington
Cedric Dockery, OL/Texas
Ray Feinga, OG/BYU
John Faletoese, DT/Cal-Davis
Darius Passmore, WR/Marshall: He's one of my guys but I'm not even sure he played; never noticed him
Robert Francois, OLB/Boston College
Brandon Hughes, CB/Oregon St
I was disappointed in the following players:
Chase Daniel, QB/Missouri: Had a disappointing week overall, I don't know if it was a lack of communication with the WR's, center, or what but he didn't look like the Chase Daniel I've seen in the past. Hopefully this is just a fluke
Brandon Underwood, DB/Cincinnati: He can play FS and CB, but didn't look very good at either one. He looked thin and slow to react most of the day
Courtney Greene, S/Rutgers: Got mossed by Bear Pascoe, didn't look on top of his game
Aaron Kelly, WR/Clemson: It looked like he was intimidated and he's rail thin. Fell down too much
Taurus Johnson, WR/USF: Didn't necessarily hurt himself, but confirmed suspicions about his shaky hands
Orion Martin, DE/Virginia Tech: Ran around blockers and struggled when he got locked onto, doesn't look athletic enough to make the position change either, struggled with open field tackling/angles
Darryl Richard, DT/Georgia Tech: I was expecting him to be one of the first DT's off the ball, but more often than not he was the last
Jorvorskie Lane, FB/Texas A&M: He's all but erased his chances of being drafted by showing up at reportedly 295 (he looks all of 300) and struggling to punch it in from inside the five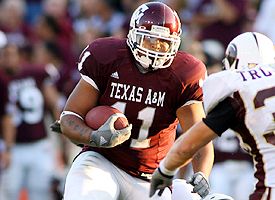 Dan Gay IV, OT/Baylor: Sidbury destroyed him. Looked good early on... against Etienne Legare
Simeon Rottier, OT/Alberta (Ca): Every time I saw him it seemed like he was on the ground, looked very thin
Pannel Egboh, DE/Stanford: He just seems a step slow to play DE, I think he should add weight and play DT because he had a couple solid bullrushes
Marko Mitchell, WR/Nevada: Was overthrown on badly on a deep ball that would've been a TD, then dropped several catchable balls
Travis Bright, OG/BYU: Slow feet, struggled to stay in front of his man
De'Von Hall, LB/SS/Utah St: Didn't look like he belonged, took poor angles and tried to arm tackle, not physical enough to play LB or athletic enough to play safety
Alex Boone, OT/Ohio St: This game was before we knew about his "drunken rampage" but his performance here hurt his stock (almost) as much. Showed no ability to stay with speed rushers, was beaten badly by a Nick Reed spin move. On a positive note, he looked huge