QB: Jeff Smith, Georgetown (KY)
6'5" 237; 4.87
He's huge, athletic, and has the arm to make all the throws. Is worth a late round pick strictly as a developmental prospect, really impressed me in the postseason. Not the most accurate QB and didn't put up great numbers in D2, but is very talented.
RB: Justise Hairston, Central Conn St
6'1" 210; 4.58
Big back runs with power and has enough speed to break it to the outside. Not the quickest guy around and doesn't have a great set of moves, but can make some people miss in the open field. Played at Rutgers earlier in his career, and looked good.
FB: Oren O'Neal, Arkansas St
6'0" 248; 4.67
He's an old school type of FB. Excellent size and strength, plays tough and to the whistle. Excels as a run blocker, but can run it up the middle occasionally. Had 8 rushes for 59 yards last season. Not a bad receiver won't make anybody miss in the open field but can run some people over.
TE: Braden Jones, Southern Illinois
6'3" 260; 4.58
Former LB at Northwestern has had some injury problems over his career, but is a very good athlete. Was a sixth year senior last season and will be a 25 year old rookie. He's a productive receiver with the size and strength to contribute as a blocker. Might have some upside as an H-Back.
WR: Biren Ealy, Houston
6'3" 207; 4.50
He was a top recruit coming out of high school. Had a good freshman season at Arizona. Has deceptive speed, is more of a long strider but can get behind DB's. Catches the ball away from his body, can run after the catch.
WR: Roy Hall, Ohio St
6'2" 229; 4.41
He's a very talented player that showed his true ability at Ohio State's pro day. Was stuck behind two even more talented players at OSU. Impressed me in the Hula Bowl, has a great combination of size, speed, and strength. Lack of playing time is a concern, but he played well whenever he got in the game, was a solid special teamer.
LT: Nello Faulk, FAU
6'7" 292; 5.11
Extremely athletic for such a big guy, slides well in pass protection. Played a great game against Gaines Adams this season, holding him to 3 tackles and no sacks. Long arms and a big frame give him excellent size potential. Played last season close to 270 pounds, but got up to 292 at his pro day.
LG: Derrick Markray, Bowling Green
6'3" 350; 5.63
He's a huge, mauling run blocker with the size and strength to develop into a solid starter for a team that specializes in the power run game. When he's not tired, he has good athleticism and movement skills for such a big guy. Needs to work on conditioning and overall technique to make it at the next level, but has potential.
C: Scott Stephenson, Iowa St
6'3" 297; 5.20
Great athlete for an OL, excellent on pulls and can reach the second level. Could develop into a starter for a zone blocking team like the Broncos or Falcons. Former DT, inexperienced and raw but is smart and has potential.
RG: T.J. Downing, Ohio St
6'5" 298; 5.19
Versatile technician, doesn't have the measurables of some other players in this class, but could step in and contribute right away. Uses hands well and very rarely lets defensive linemen get into his body. Doesn't give ground to bull rushers, plays with a solid base. Lacks elite quickness and speed, but makes up for it with leverage and technique.
RT: Cliff Louis, Morgan St
6'6" 280; 4.90
Has a ton of potential, runs like a TE and hits like an LB. Huge frame with long arms, is a knee bender, not a waist bender, which is a very good thing in the NFL. Played last season at close to 260 pounds, but has gotten that up to around 290 recently. Might take some time to develop, but will be worth it.
DE: Greg Peterson, NC Central
6'5" 286; 4.73
He's huge and very athletic for his size. Raw, got by mainly on physical skill in college, but all the tools are there. Very productive, had 25.5 career TFL. Could find his name called later on day 2 thanks to his potential.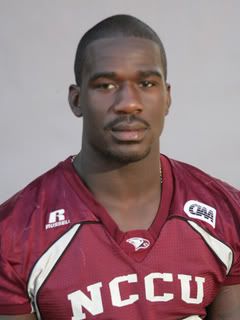 DE: Keyunta Dawson, Texas Tech
6'1" 272; 4.72
Productive and experienced, very sturdy build and can play the run or pass. He's undersized for a DE and might be too slow to play LB, but is simply a playmaker. Solid set of pass rush moves, has excellent upper body strength, and plays with leverage and technique. Think a poor man's LaMarr Woodley.
DT: Marquay Love, Houston
6'0" 307; 5.10
Has potential to be an excellent run stuffing nose tackle and takes up multiple blockers at a time. Extremely hard to move, can collapse the pocket on occasion. Needs to get in better shape and isn't very tall, but takes up a ton of space and keeps blockers busy.
DT: Daniel Muir, Kent St
6'2" 303; 4.90
He was pretty much off the radar until his pro day. Excellent athletic numbers, at 303 pounds, he ran a 4.90 and benched 225 37 times. I really can't think of anyone else who did that. Active on the inside, but played last season at closer to 285 pounds. Had 11 TFL and even returned a pick for a TD.
MLB: Taurean Charles, Bethune-Cookman
6'1" 240; 4.70
Former prep phenom has had a rollercoaster college career. Got kicked out of Florida because of several run-ins with the law, then enrolled at Bethune-Cookman. There's no denying his talent, can rush the passer and cover RB's in man. Led the Wildcats with 94 tackles last season, then performed well at the Texas vs. Nation game.
OLB: Mario Reese, Minnesota
6'3" 231; 4.70
One of the best cover LB's in the draft, a playmaker with excellent ball skills and hands. Has the frame to add a lot more weight, needs to get bigger and stronger. Can get pushed back in the run game and struggles to disengage at times, but takes good angles and is a sure tackler.
OLB: Mickey Pimentel, California
6'0" 230; 4.55
He's extremely athletic and is a hard worker. Can rush the passer and cover RB's, but isn't very strong vs. the run. He has the look of a high effort backup that excels on special teams and can come in on passing downs. He never was a full time starter at Cal, but made plays when he was in there.
CB: Ramzee Robinson, Alabama
5'9" 188; 4.42
He's a small, playmaking CB that could turn into an excellent nickel back. Inconsistent over his career, but a very good postseason could sneak him into the draft. Strong vs. the run for a guy his size, won't lay anybody out but is a sure tackler.
CB: John Bowie, Cincinnati
5'11" 188; 4.37
He's a great athlete, very fast, quick, and can jump. Needs to get stronger to improve in run support, but is tough and tries hard. Ball skills need to get better, but is great in man coverage. Needs a little technique work, but could contribute on special teams right away.
SS: Jay Staggs, UNLV
6'0" 214; 4.50
Lead UNLV with 87 tackles and 3 interceptions last year, very productive and experienced. Smart player, hits like a LB and runs like a safety. Needs to get better at changing directions, lacks elite quickness but is an athlete and could be a solid in the box, John Lynch type of safety.
FS: David Lofton, Stanford
6'4" 212; 4.48
He's the son of Hall of Famer James Lofton, excellent athlete with a great pedigree. Played QB, switched to WR, then found his home at FS. Great workout numbers, prototypical size, speed, and has a high football IQ. Doesn't have the ball skills that you'd expect from a former WR, instincts are lacking, but is still a good player.