1. Gaines Adams, Clemson
6'5" 258; 4.64; 21 reps
Statistics: 62tkls; 17.5TFL; 12.5sacks
Extremely athletic with the frame to get bigger and an excellent array of pass rush moves…explosive first step blows by offensive linemen, could make the switch to LB if he has to…he doesn't have ideal overall strength and struggles when ran at…inconsistent effort and can disappear at times.
2. Adam Carriker, Nebraska
6'6" 296; 4.90; 33 reps
Statistics: 52tkls; 16TFL; 7sacks
Excels vs. the run, strong at the point of attack…has good quickness and overall athleticism for a guy his size, could play basically any DL position other than NT…had a great Senior Bowl week after a disappointing senior season…not the most explosive guy, won't ever be a premier pass rusher, but is solid in that area.
3. Jamaal Anderson*, Arkansas
6'5" 288; 4.75; 22 reps
Statistics: 65tkls; 19TFL; 13.5sacks
His main positive is potential…former WR has a big frame, long arms, and excellent athleticism…had a breakout junior year, showed a quick first step, and a solid set of pass rush moves…could improve vs. the run and be stronger at the point of attack, but isn't terrible in that area…very raw and inconsistent, bigger of a risk than Carriker, but might have more upside.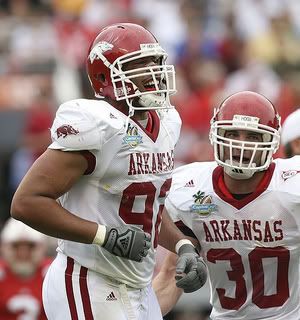 4. LaMarr Woodley, Michigan
6'2" 266; 4.74; 29 reps
Statistics: 36tkls; 16.5TFL; 12sacks
Playmaker that lacks ideal measurables but was extremely productive in college…versatile, has experience at LB and 3-4 DE…great vs. the run, explosive at the point of attack and knocks back OT's that outweigh him by 50 to 100lbs…powerful, wrap up tackler…a 'tweener without a true position, might lack the speed/cover skills to play LB, small for a DE.
5. Jarvis Moss*, Florida
6'7" 250; 4.70; 16 reps
Statistics: 56tkls; 11TFL; 7.5sacks
Tall, lanky athlete, versatile and has the speed/quickness to make the switch to LB…excellent pass rusher, uses long arms to get separation…fluid in space, lacks experience in coverage but has potential in that area…very thin and weak for a DE, desperately needs to get bigger and stronger…struggles when teams run at him.
6. Anthony Spencer, Purdue
6'3" 261; 4.70; 30 reps
Statistics: 93tkls; 26.5TFL; 10.5sacks
Explosive athlete and playmaker, undersized but makes up for it with his strength and hustle…needs to improve pass rush set, might have to switch to LB, but lacks experience in coverage…powerful hitter with great short area burst and acceleration…first step is up there with the best.
7. Ikaika Alama-Francis, Hawaii
6'5" 280; 4.85; didn't bench
Statistics: 39tkls; 10TFL; 4 sacks
Loads of upside…excellent combination of size, athleticism, and strength…plays to the whistle and is very aggressive…father played in the NFL…inexperience shows, very inconsistent and not near as productive as a player with his tools should have been…doesn't use size to his advantage and plays with poor leverage.
8. Charles Johnson*, Georgia
6'2" 270; 4.84; 33 reps
Statistics: 44tkls; 19TFL; 9.5sacks
Outplayed more heralded teammate Quentin Moses most of the time this year…powerful upper body, plays low and with leverage…quick, tough vs. the run and rarely misses tackles...didn't run very well at the combine and lacks elite measurables…relatively weak lower body, can get pushed back by bigger linemen…effort is inconsistent.
9. Victor Abiamiri, Notre Dame
6'4" 267; 4.80; 25 reps
Statistics: 43tkls; 15TFL; 10.5sacks
Solid, but not star player…consistent vs. the run and can get to the passer…not an out of this world athlete but is quick and powerfully built with a huge frame and long arms…doesn't change directions well and looks mechanical in space…inconsistent technique, lacks the speed to chase plays down.
10. Quentin Moses, Georgia
6'5" 261; 4.82; 17 reps
Statistics: 33tkls; 12TFL; 4.5sacks
More athlete than football player at this point…frame could add more weight, excellent playing speed and quickness…looks like a LB in space, instinctive and fluid…very lean for a DE, had a disappointing showing at the combine…weak base and gets pushed back way too often…inconsistent against the run, effort and desire are questionable.
11. Tim Crowder, Texas
6'4" 272; 4.69; 32 reps
Statistics: 59tkls; 18TFL; 10.5sacks
Uses sound technique, leverage…high effort and hustle player that simply makes big plays…plays with a solid base, has the size and strength to hold up vs. the run…average athletically and doesn't have the potential of many other players in this class…doesn't have ideal quickness, burst or acceleration.
12. Jay Richardson, Ohio St
6'6" 279; 5.00; 20 reps
Statistics: 25tkls; 8.5TFL; 4sacks
One of my favorite sleepers at DE…excellent size, strength, and has the frame to add even more bulk…more quick than fast and has a good first step…one of the best in the class vs. the run, hard to move…lacks speed and isn't the greatest athlete…technique is inconsistent and doesn't always play with proper leverage.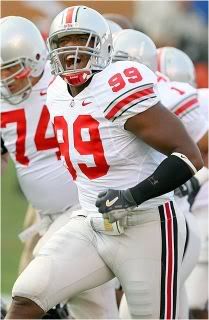 13. Baraka Atkins, Miami
6'5" 271; 4.69; 22 reps
Statistics: 49tkls; 9TFL; 4sacks
Versatile, can play DE, 3-4 DE, and DT…still has some potential left and is a very good athlete…has a great combination of power and acceleration, excellent at the point of attack…inconsistent, doesn't always look like he's playing hard…not much of an edge rusher.
14. Brian Robison, Texas
6'3" 259; 4.67; 27 reps
Statistics: 37tkls; 9TFL; 5.5sacks
One of the most impressive players at the entire combine…has the athleticism to play 3-4 LB, which is where I think he'll end up…has been talked about as a "hustle" player or and "overachiever", but showed his true athleticism at the combine…lacks elite size and has little playing strength, narrow base and really struggles when teams run at him.
15. Dan Bazuin, Central Michigan
6'3" 266; 4.77; 25 reps
Statistics: 67tkls; 15TFL; 10.5sacks
Productive in college, gets to the quarterback and finishes consistently…excellent short area burst, more quick than fast…powerful upper body, explosive at the point of attack…lacks lower body strength and plays with a narrow base…might be too small to play full time in the NFL.
16. Jay Moore, Nebraska
6'5" 274; 4.92; 26 reps
Statistics: 45tkls; 17TFL; 6sacks
Gets the most out of his physical ability…solid in all areas but lacks potential…impressed at the Senior Bowl, winning Defensive MVP honors…plays to the whistle and with sound technique…lacks explosiveness, athleticism, and speed.
17. C.J. Ah You, Oklahoma
6'4" 274; 4.70; 26 reps
Statistics: 41tkls; 8.5TFL; 4sacks
Had excellent explosive numbers at the combine, but doesn't play that way…Good athleticism for his size, strong and tough, old school kind of player…will turn 25 as a rookie, which limits his upside…didn't make a ton of plays in college…doesn't excel in any one area.
18. Xzavie Jackson, Missouri
19. Jacob Ford, Central Arkansas
20. Mkristo Bruce, Washington St
21. Jason Trusnik, Ohio Northern
22. Rondell Biggs, Michigan
23. Derrick Jones, Grand Valley St
24. Edgar Jones, SE Missouri St
25. Darius Sanders, Oregon
26. Keyunta Dawson, Texas Tech
27. Robin Gamble, Miles College
28. Dennis Ellis, Boise St
29. Marquies Gunn, Auburn
30. Larry Birdine, Oklahoma
31. Chase Pittman, LSU
32. Jason Jack*, Texas A&M
33. Mel Purcell, Hawaii
34. Alex Obomese, UTEP
35. Antwan Applewhite*, SDSU
36. Greg Peterson, NC Central
37. Noland Burchette, Virginia Tech
38. Marcus Smith, Arizona
39. Victor DeGrate, Oklahoma St
40. J.J. Milan, Nevada
41. Matt King, Maine
42. Jeffery Nweke, Fort Valley St
43. Brian Rackley, North Carolina
44. Travis Tofi, USC
45. Gilberto Perez, Air Force
46. Abraham Wright, Colorado
47. Justin Rogers, SMU
48. Nu'u Tafisi, Cal
49. Bryan Andrews, Wake Forest
50. Kyle Bissinger, UAB
51. Jyles Tucker, Wake Forest
52. Darrell Burston, Florida St
53. Nick Cavallo, Purdue