NOTE: I'm going to post shortened versions of scouting reports for all Linemen due to time restraints (I have to get every position done before April 28th, draft day)
OFFENSIVE TACKLES
1. Joe Thomas, Wisconsin
6'7" 311; 4.92; 28 reps
Combines elite physical skill with unmatched polish and pass blocking/technique…could improve run blocking and be a little more aggressive…about as complete of a prospect as you can find…had a torn ACL last year, but it looked completely healed this season…gets to the 2nd level with the best of 'em.
2. Levi Brown, Penn St
6'6" 323; 5.40; 31 reps
A boom or bust pick…big, strong, and explosive, but gets lazy and isn't the quickest guy around…may have to switch to RT in the pros, but if he gets his mind right and tries harder, I think he can stay at LT…Impressed at the Senior Bowl and looked like he actually cared.
3. Tony Ugoh, Arkansas
6'5" 301; 5.06; 32 reps
He's upside, potential, and more upside…huge frame, long arms, and a powerful build…really improved in senior season, as a pass and run blocker but still has a ways to go in terms of consistency and technique…I really like him, he just looks like a future star and really impressed me blocking for McFadden/Felix Jones last season...needs to play meaner.
4. Joe Staley, Central Michigan
6'6" 306; 4.79; 27 reps
Extremely athletic former TE…one of the fastest linemen you'll ever see, can break 4.80 in the 40…needs to get bigger and stronger to handle bull rushers…not very aggressive, but has upside, especially if someone can light a fire under him.
5. Mario Henderson, Florida St
6'7" 302; 5.11; 20 reps
Extremely underrated prospect with all the tools to start at LT in the NFL (long arms, athleticism, size), really came on strong late in his senior year…a disappointment earlier in his career, needs to get stronger, be more consistent…smart, hard worker, good character guy.
6. James Marten, Boston College
6'8" 309; 5.08; 25 reps
To put it simply, he's big…tough, strong, and quick, prototypical RT in the NFL…not the most athletic guy around and needs to be more flexible…has trouble with speed rushers…not much potential, but is a safe pick.
7. Ryan Harris, Notre Dame
6'5" 305; 5.09; 22 reps
He's an experienced, polished finesse blocker…excels against speed rushers…solid quickness, shows the ability to mirror & slide well…not strong or aggressive enough to contribute right away…average as a run blocker.
8. Mike Otto, Purdue
6'6" 305; 5.20; 20 reps
Experienced, polished pass blocker is a solid pick but won't ever be anything special…makes up for lack of elite physical tools with proper footwork and hand placement…big, plays strong and can hold his ground against bull rushers.
9. Allen Barbre, Missouri Southern
6'4" 300; 4.84; 28 reps
Combine standout, small school star, versatile and extremely athletic…Lacks ideal lower body strength and can be pushed back by bull rushers…level of competition is a concern…not the biggest frame, could move to OG.
NO PICTURE
10. Herbert Taylor, TCU
6'4" 296; 5.19; 26 reps
He's an extremely athletic, could start for a zone blocking team right away…versatile, technician, very smart with a high football IQ…makes up for his lack of strength and explosiveness with his quickness and athleticism…wears sunglasses all the time, so that's a plus.
11. Marshal Yanda, Iowa
6'4" 307; 5.15; 23 reps
Versatile, plays with good technique most of the time…very hard to push into the pocket, plays with a wide base and excels against bull rushers…limited athleticism/frame make a switch to OG probable, can't play LT…overaggressive at times.
12. Brandon Frye, Virginia Tech
6'4" 301; 5.08; 34 reps
He's more of an athlete than a football player at this point…big, strong and athletic, but needs to work on the little things…inconsistent in terms of technique and focus…a boom or bust pick with all the tools, needs development time.
13. Doug Free, Northern Illinois
6'6" 324; 5.19; 22 reps
Former TE is very athletic, but had a disappointing senior season and might lack the aggressiveness/mean streak to ever make it big…Not very strong run blocker, but excels as a pass blocker w/his long arms and quick feet.


14. Corey Hilliard, Oklahoma St
6'5" 308; 5.29; 28 reps
Versatile, can play any position but Center…needs time to develop but has a lot of tools to work with…plays with inconsistent technique and leverage, but got by on pure strength and athleticism in college…plays with a mean streak.



15. Nello Faulk, FAU
6'7" 292; 5.11; 22 reps
One of my favorite sleepers in this draft…huge frame with rare athleticism and speed…gets to the 2nd level with the best of 'em…experienced, long arms help him as a pass blocker…needs to add bulk and strength to improve in the run game…might not have the mean streak to make it, but has a ton of tools and could be a very intriguing developmental prospect.



16. Adam Koets, Oregon St
6'5" 298; 5.08; 20 reps
He's an athletic, quick player that excels in pass pro, but really needs to add overall bulk and strength to succeed at the next level…poor run blocker, won't push the pile…impressed with quickness and footwork at the combine.



17. Stephon Heyer, Maryland
6'6" 334; 5.59; 30 reps
He's simply a huge guy with freakishly long arms and a very wide base…plays strong, experienced with solid technique…top heavy, lacks quickness and athleticism…will have to be strictly RT in the NFL, might even have to switch to guard…has had injury problems.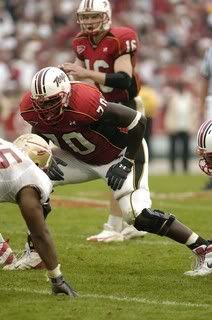 18. Cliff Louis, Morgan St
6'6" 280; 4.90; 21 reps
He's extremely athletic, has a big frame with long arms. Loads of potential, runs like a TE and hits like an LB…played last season close to 260lbs, needs to add bulk and lower body strength…very raw and inexperienced, will take developmental time but is worth a late round flyer due to his potential…level of competition is a concern.



19. Gabe Hall*, Texas Tech
6'4" 313; 4.91; 22 reps
Very athletic with a lot of potential, especially in a zone-blocking scheme that utilizes it's linemen's quickness…Not the strongest guy, could get bigger…can be pushed into the pocket and struggles vs. bull rushers…very inexperienced and raw technique, former TE.



20. Andrew Carnahan, Arizona St
21. Dan Parrish, Florida A&M
22. Jermon Bushrod, Towson
23. Chris Denman, Fresno St
24. Joel Clinger, Missouri
25. Julius Wilson, UAB
26. Jacob Bender, Nicholls St
27. Jonathan Palmer, Auburn
28. Dane Uperesa, Hawaii
29. Chase Johnson, Wyoming
30. Jason Capizzi, Indiana (PA)
31. Eric Graham, ECU
32. Thed Watson, USF
33. Andrew Cameron, Cal
34. Kyle Tatum, Alabama
35. Eddie Keele, BYU
36. Clyde Reed, SC State
37. Peter Dyakowski, LSU
38. Ken Shackleford, Georgia
39. Brandon Cox, La-Lafayette
40. Robert Kraay, Air Force
41. Ed McCarthy, Yale
42. Zac Tubbs, Arkansas
43. Aaron Brant, Iowa St
44. Tavo Tupola, Utah
45. Chris Messner, Oklahoma
46. Clint Oldenburg, Colorado St
47. Brian Stamper, Vanderbilt
48. Elliot Vallejo, UC Davis
49. Marion Dukes, Clemson
50. Joe Ainslie, Minnesota
51. Jeff Perrett, Tulsa
52. Willie Henderson, Memphis
53. Rob Austin, Troy
54. Glenn January, Texas Tech
55. Mike Kolodziej, Michigan
56. Daniel Inman, Georgia
57. Kyle Williams, USC
58. David Shemaria, Bloomsburg
59. James Newby, N.C. St
60. Charles Harris, Washington St
61. Tanner Bell, Arizona