As some of you may have noticed, there is an ad at the top of the page. If you want to help out Maximum Draft, take 2 seconds out of your day and click on it. Thanks, and here are my Offensive Guard Rankings/Analysis:
1. Ben Grubbs, Auburn
6'3" 311; 5.18; 29 reps
He has a unique combination of athleticism and power…is relatively inexperienced at the position, still has some upside…explosive, quick, can reach the second level…would fit pretty much any system…a safe pick, but not the biggest guy around and could improve overall technique.
2. Justin Blalock, Texas
6'3" 320; 5.10; 40 reps
Played every OL position in college, aside from center…extremely strong, hard to move…holds his ground against bull rushers, big frame and ideal bulk…explosive in short areas…has trouble reaching the 2nd level and lacks ideal speed/quickness.
3. Arron Sears, Tennessee
6'3" 319; 5.09; 21 reps
Technically sound, versatile…athletic and has quick feet for such a big guy…strong lower body, anchors well, is hard to move…explosive in small areas, has no trouble against bigger DT's…Conditioning and durability are minor concerns…Average upper body strength, doesn't push the pile much, not a great 2nd level blocker.
4. Manuel Ramirez, Texas Tech
6'3" 326; 5.30*; 40 reps
Simply massive, extremely strong overall and is very hard to push back…has a mean streak, plays to the whistle and with a wide base…can push the pile in the running game…short arms hurt him in pass pro, poor technique and gets sluggish late in games…might take some time to adjust to the NFL game…Not being able to fully workout in front of scouts hurts him.
5. T.J. Downing, Ohio St
6'5" 298; 5.19; 31 reps
Versatile technician, does the little things well…hard to move, plays with a wide base and can anchor vs. bigger DT's…fights to the whistle, gets good hand placement…gets the most out of his limited physical tools…one of my favorite players in the draft, but isn't very athletic or explosive…plays too high at times and isn't very flexible.
6. Andy Alleman, Akron
6'4" 305; 5.07; 27 reps
Explosive and athletic with a lot of potential…hard worker, team guy with a high football IQ and room to improve…good 2nd level blocker, plays to the whistle…gets pushed back into the pocket too often, not the biggest or strongest guy…a little inconsistent and unproven.
7. Mansfield Wrotto, Georgia Tech
6'3" 317; 5.40; 27 reps
Former DT with excellent combination of strength and athleticism…loads of potential, if he can just be more aggressive and consistent…explosive first step and jarring initial punch…excels as a run blocker, but can be beaten by quicker DT's…needs to improve on the 2nd level, needs a lot of technique work.
8. Tim Duckworth, Auburn
6'3" 306; 5.42; 20 reps
Hard to move, plays with a mean streak…extremely strong lower body and plays with a wide base…can push the pile in the running game…aggressive, played well at the Senior Bowl…might lack the athleticism and quickness to ever start…average combine didn't help his chances.
9. Dan Santucci, Notre Dame
6'4" 301; 5.13; 23 reps
He has a solid combination of mobility, size, and strength…improved a lot in his senior season, really impressed me at the combine…hard worker, plays to the whistle…inexperienced, inconsistent technique, lacks ideal base and bulk and gets pushed back too often…won't push the pile.
10. Mike Jones, Iowa
6'5" 309; 5.46; 28 reps
Extremely experienced, smart technician knows how to use angles and technique to make up for his lack of physical talent…Versatile, former OT, has long arms…relatively weak overall for an OL, lacks the base to anchor, not very explosive or athletic.
11. Uche Nwaneri, Purdue
6'3" 325; 5.37; 24 reps
More upside than production pick, has the tools to contribute, athletic for a guy his size…plays aggressive, sometimes too aggressive…powerful upper body and jarring punch…gets pushed into the pocket too often, plays with a narrow base…inconsistent, spotty footwork and technique…minor character concerns, would need time to develop.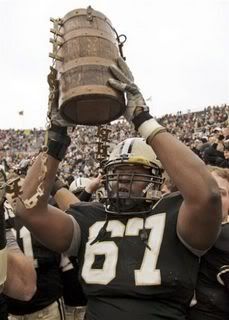 12. Kasey Studdard, Texas
6'3" 303; 5.18; 32 reps
Blue collar, hard worker that gets the most out of his abilities…extremely aggressive, plays with a wide base and is hard to move…poor quickness and athleticism, short arms and has already maxed out his frame…not much potential, but has the look of a decent backup.
13. Jake Kuresa, BYU
6'3" 343; 5.23; 35 reps
Huge with ideal strength and solid short area quickness for his size…experienced and versatile…rarely, if ever loses once he's locked on and doesn't give ground to bull rushers…conditioning has been a major concern over his career…lacks ideal athleticism and really struggles on the 2nd level.
14. Tala Esera, Hawaii
15. Cameron Stephenson, Rutgers
16. Steve Vallos, Wake Forest
17. Kurt Quarterman, Louisville
18. Derrick Markray, Bowling Green
19. Kyle Cook, Michigan St
20. Rueben Riley, Michigan
21. Robert Turner, New Mexico
22. Tucker Peterson, New Hampshire
23. George Batiste, Southern Miss
24. Mike Elgin, Iowa
25. Brian Johnson, LSU
26. Josh Day, Colorado St
27. Trai Williams, Kentucky
28.Nathan Bennett, Clemson
29. Brian Daniels, Colorado
30. Harrison Nikolao, E Wash
31. Jamar Foulks, Mansfield
32. John Simonitis, Pittsburgh
33. Roman Fry, Clemson
34. Matt Maddox, Illinois
35. Stephen Berg, Arizona St
36. Dylan Lineberry, North Texas
37. Renardo Foster, Louisville
38. Stanley Daniels, Washington
39. Palauni Ma Sun, Oregon
40. Bob Morton, Notre Dame
41. Thomas Coleman, South Carolina
42. Corey Davis, James Madison
43. Bob Whitaker, Kansas
44. Cory Niblock, Florida St