1. Le'Ron McClain, Alabama
6'0" 256; 4.88
Statistics: 64yds, 5.8ypc; 20rec 175yds 3TDs
Positives: He's a big, strong lead blocker that is a surprisingly smooth receiver for a guy his size. Powerful back that can break some tackles and runs hard.
Negatives: With the gradual decline of classic FBs in the NFL, he could have a tough time making it. Average overall athlete, won't make anybody miss in the open field.
Best Case: Mack Strong
Worst Case: Deon Dyer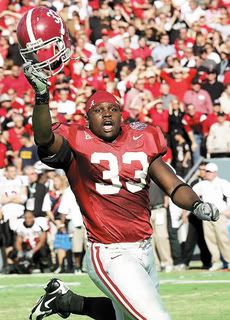 2. Cory Anderson, Tennessee
6'2" 247; 4.70
Statistics: 1rush yd; 3rec 13yds
Positives: He's a very aggressive blocker that plays until the whistle and finishes his blocks. A solid athlete for his size and offers some upside as a possible short yardage specialist, is a reliable receiver.
Negatives: He had very little rushing experience in college. Plays overaggressive and needs to use better technique. Weighed in well under his listed weight, and didn't show ideal strength at the combine.
Best Case: Jeremi Johnson
Worst Case: Stanley Pritchett
3. Derek Schouman, Boise St
6'2" 247; 4.74
Statistics: 29rec 276yds 4TDs
Positives: A former tight end that really impressed at the combine. Good overall athleticism, excellent hands, reliable receiver. Versatility should get him some looks, he can play H-B, FB, and TE.
Negatives: He has no rushing experience, a little bit of a 'tweener. Doesn't have a second gear in the open field and doesn't do much after the catch. Sound technique as a blocker, but doesn't have dominating strength and isn't real physical.
Best Case: Poor Man's Chris Cooley
Worst Case: Aaron Shea
4. Dante Rosario, Oregon
5. Jason Snelling, Virginia
6. Roshon Vercher, Fresno St
7. Jesse Allen, Virginia Tech
8. Deon Anderson, UCONN
9. Gijon Robinson, W Missouri St
10. Oren O'Neal, Arkansas St
11. Brad Lau, Boise St
12. Ruben Mayes, Grambling St
13. Stan White Jr, Ohio St
14. Bryson Davis, Mississippi St
15. Dave Herron, Michigan St
16. Tim Castille, Alabama
17. Obi Oluigbo, Michigan
18. Billy Latsko, Florida
19. Paul Mosley, Baylor
20. Dane Todd, Nebraska